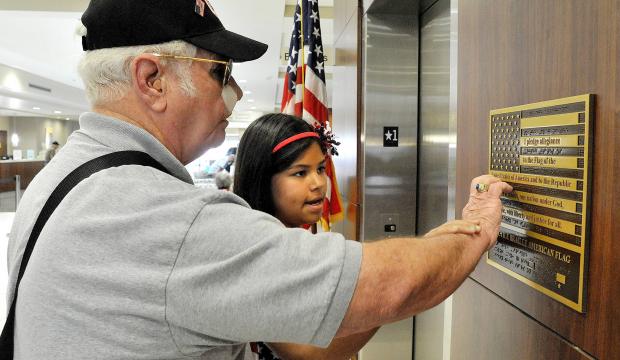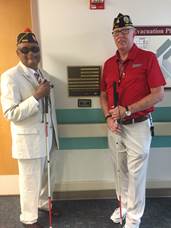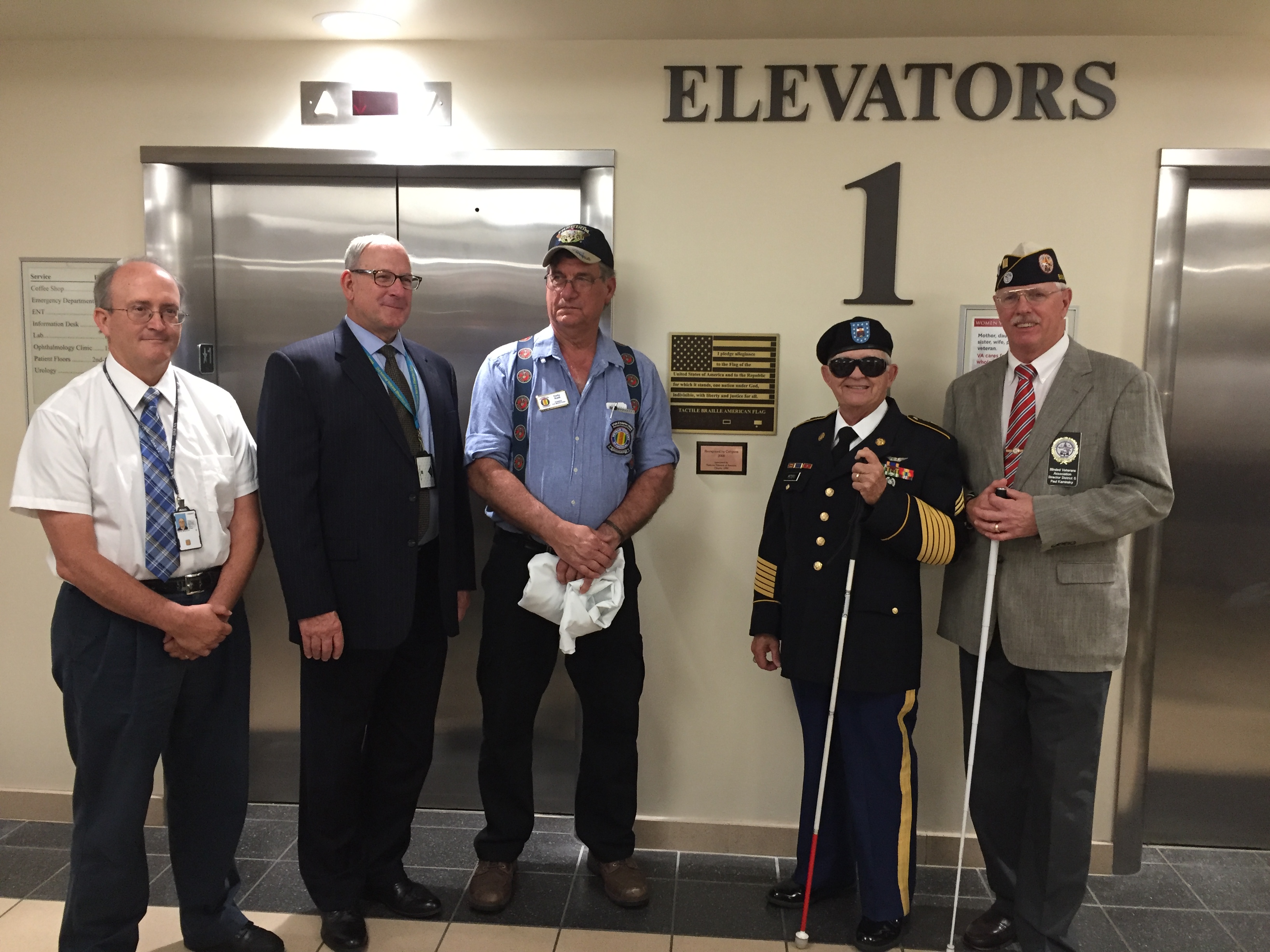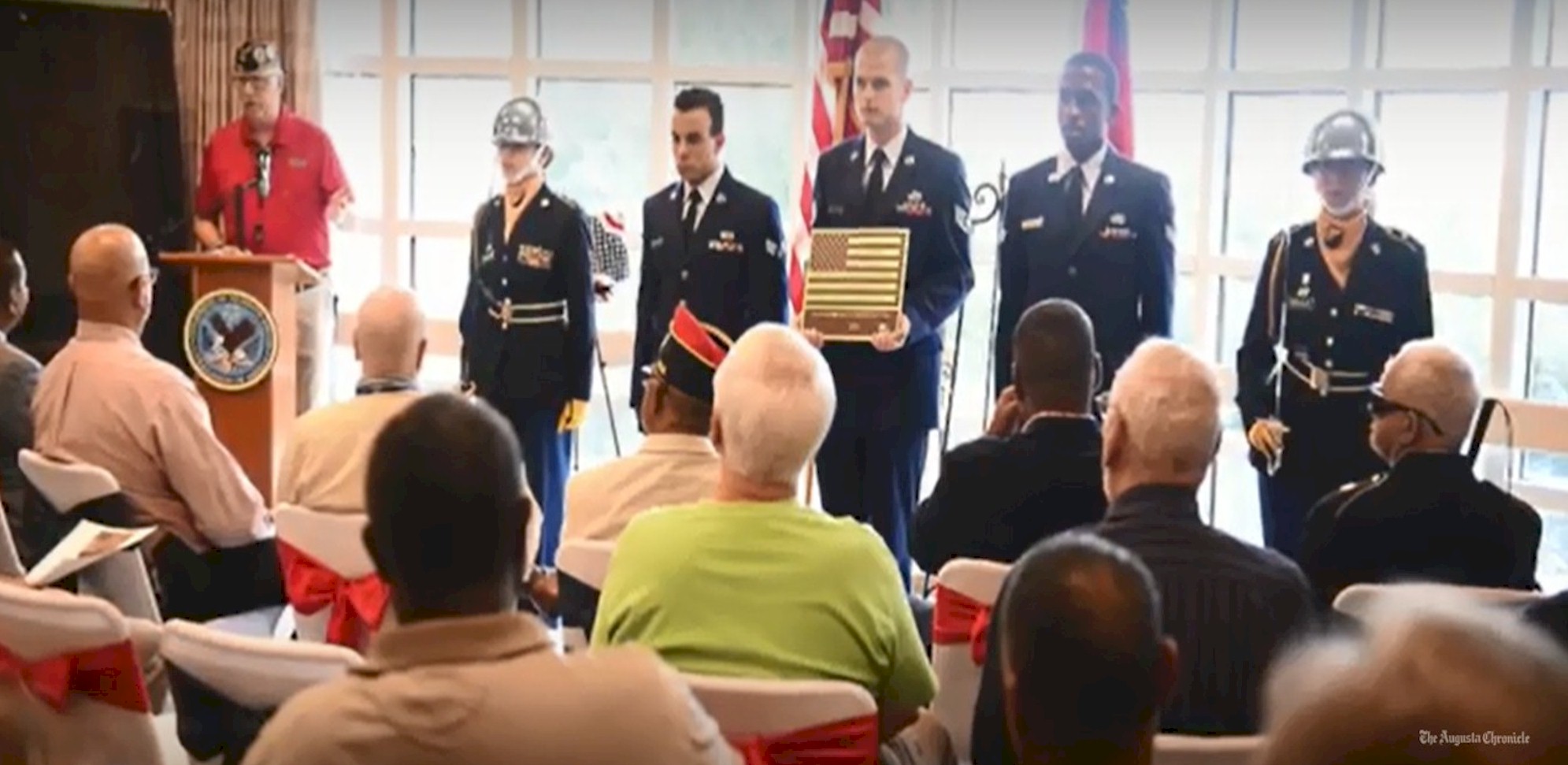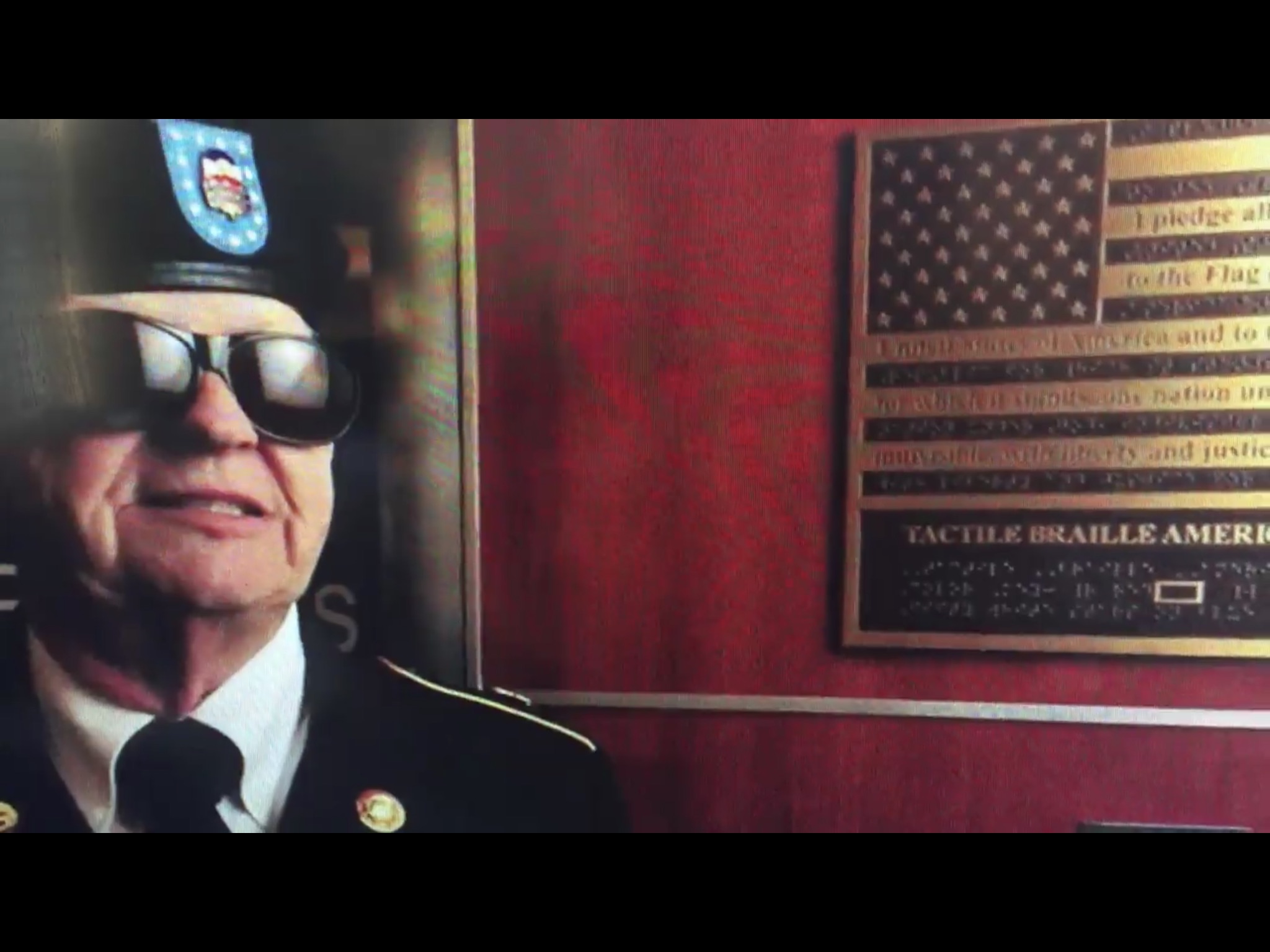 <! Begin Donate Button> <! End Donate Button>
<!Begin Link to Shop Page>

<!End Link to Shop Page>
THE BRAILLE FLAG
The
original Flash Bronze Braille
tactile
flag has
in the upper left
corner
stars, each of which represents the 50 states and are arranged in
nine
rows in alternating clusters of six and five. The long smooth horizontal lines
represent the red stripes. The end of each stripe is embossed with the Braille
dots 4, 5, 6 followed by the lower case "r", indicating the color red. Between
each of the representations of the red stripes are the long raised textured
areas representing the white stripes. The end of each stripe is embossed with
the Braille dots 4, 5 9 6 followed by the lower case "w", indicating the color
white. As should be, there are a total of thirteen stripes which represent the
original thirteen American colonies of England which became the original
thirteen states of the new independent Republic. The pledge of allegiance is
embossed in standard font English literary Braille code over the smooth red
stripes. This graphic not only serves those Americans who have become
blind, but equally serves as a teaching/learning tactile aid for instructing
blind students how the American flag appears to the sighted. The flag is well
sized for portability (13.25" by 12" and weighs 7.5 ibs), and is easily
distributed as demonstration pieces at a conference, work shop, or seminar.
Additional variations are now available in non-Bronze material. Each variation is tactile like the original Bronze Flag.
<![if !supportLineBreakNewLine]>

<![endif]>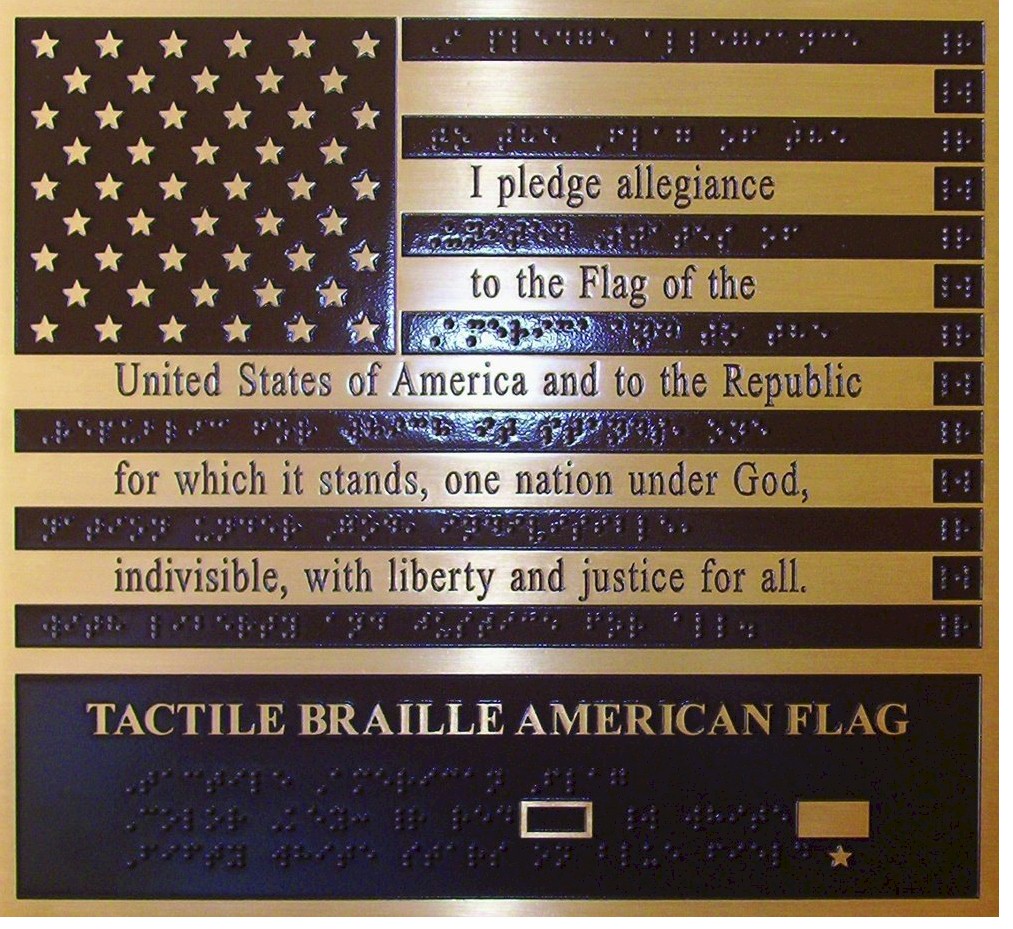 <![if !vml]>
Original Bronze or Flash Bronze
<![endif]>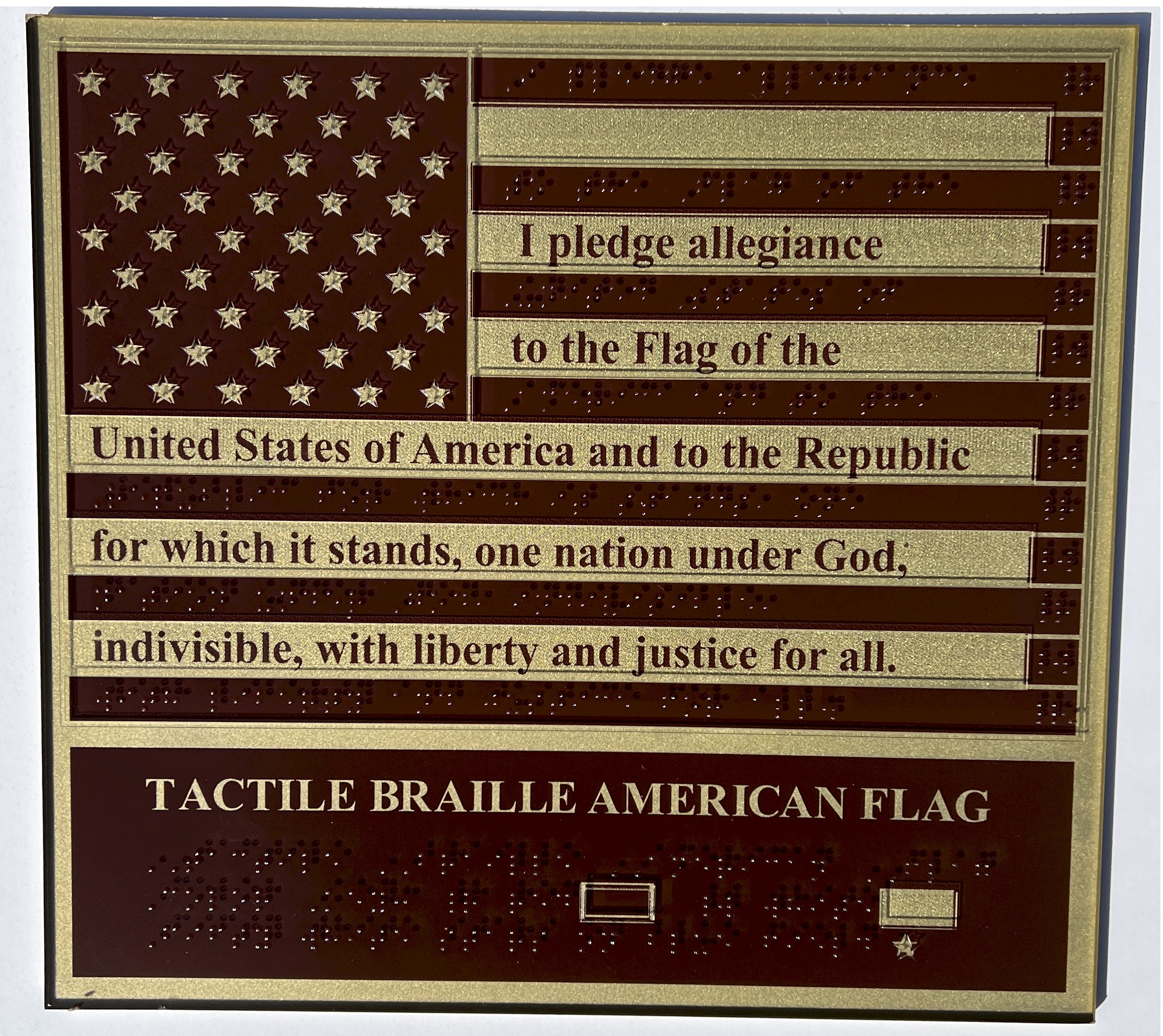 Bronze Like 3D Polymer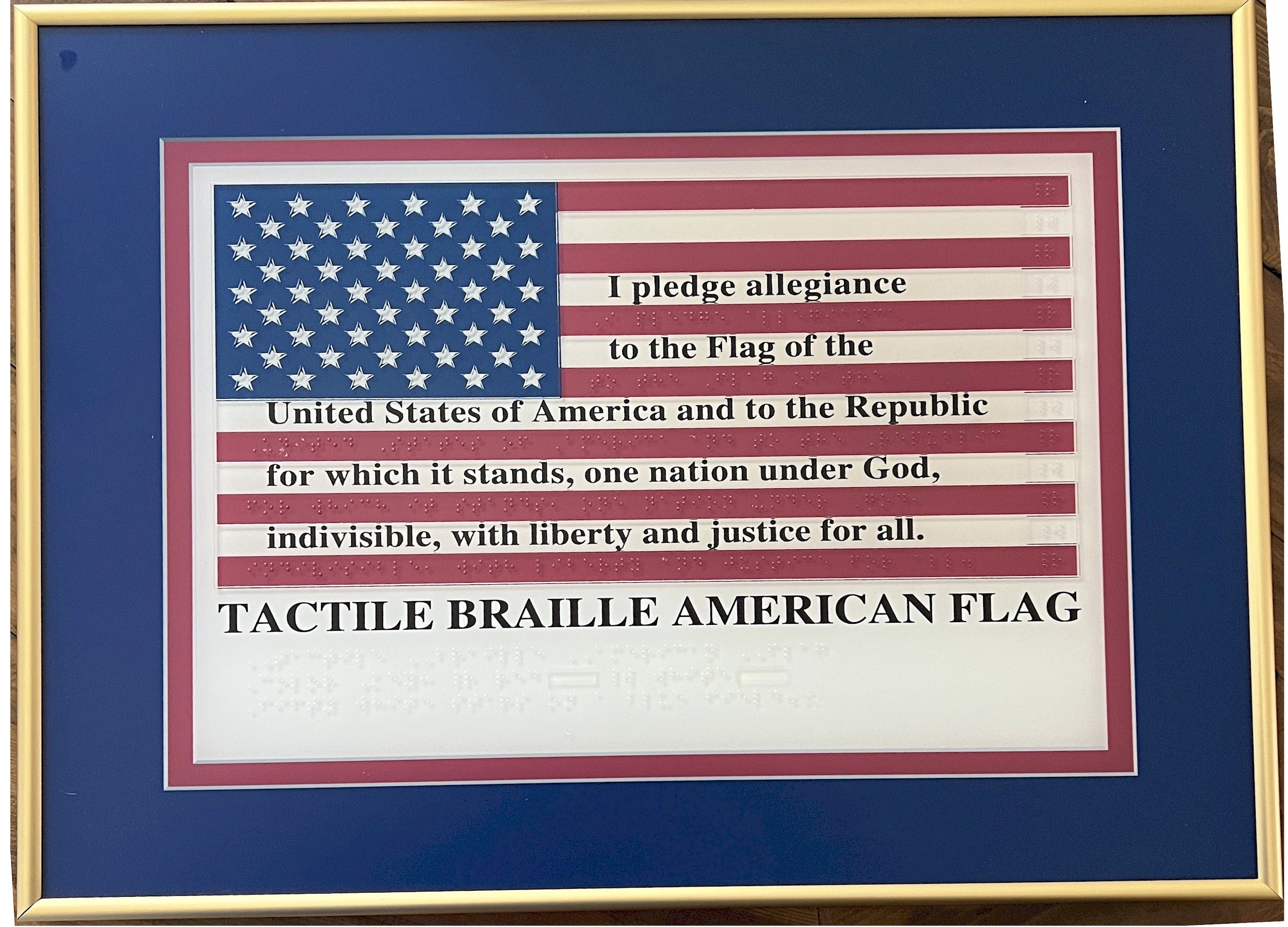 <![if !vml]>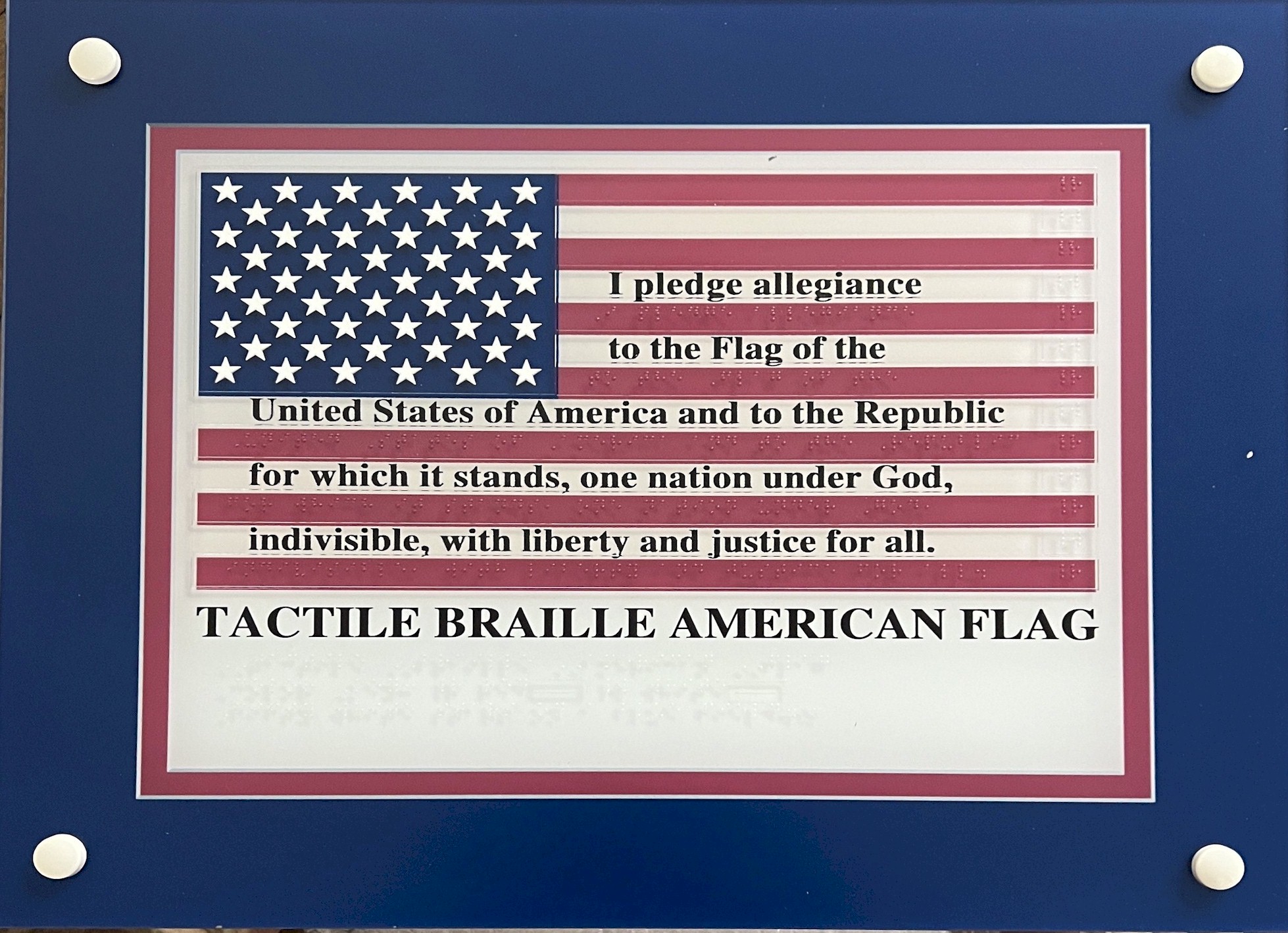 <![endif]>3D Color Polymer (Brass Framed-or-Wall Mounted)

<!Begin Link to Shop Page>

<!End Link to Shop Page>

PROJECT GOAL

To function as a non-profit (501.c(3)) for educational and patriotic purposes, in order to place the American Braille Flag in facilities visited by blind veterans and also all blind Americansk so that they may see the American Braille Flag by the touch of their fingers.

BRAILLE FLAG HISTORY

Randolph Cabral, the son of a World Wor II blind veteran created the tactile/Braille American Flag to honor his father. In February 2008, with the help of the Blinded Veterans Association and U.S. Congressman Todd Tiahrt, the U.S. Congress unanimously authorized placement of a bronze monument of the Braille Flag at Arlington National Cemetery as a tribute to blind veterans of all wars, and other blind Americans. In April of 2008 the Braille flag was officially installed at the cemetery representing a Braille replica of the U.S. American Flag. literally thousands have found their way into the hands and hearts of many sighted and blind civilians, veteran's, veteran's hospitals, memorials parks, offices of elected officials, schools for the blind, and many other places. It is estimated that America has more than 30 million blind/low vision veterans and citizens. One of the Project's goal is to make one available to every blind/low vision person in this country. Proceeds generated from the American Braille Flag Project are used to benefit blind and low vision veterans and other blind and low vision Americans.

FORCE BEHIND PROJECT

Project's President and blinded Veteran,Walt Peters, USA-Ret SSGT served three tours in Vietnam, and was a recipient of a framed Braille Flag presented by, the designer of the Braille Flag, Randolph Cabral, of the Kansas Braille Transcription Institute, Wichita, KS. Peters felt a bronze copy of the Braille Flag needed to be physically located in every VA facility throughout the Nation, and framed copies should be placed in classrooms where blind and low vision American students could see it by a touch of their fingers! Walt has made this the mission of the American Braille Flag Project.

To help: send donations to American Braille Flag Project - PO Box 232 - Middleburg, FL 32050-0232. Thank you for visiting this site and God bless America!